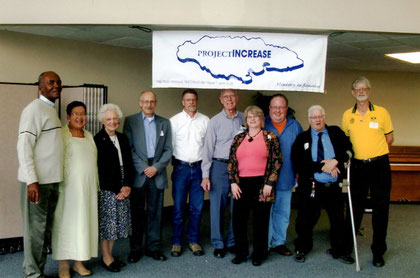 This picture is the project increase board at our Annual Banquet in April 2011. Our special guests were Pastor Delroy Campbell and his wife, Jeanette.
Project Increase has a number of ministries it supports, including:
J.A.C.E. (Jamaican Community Enrichment) JACE is committed to the enrichment of the community with a focus on education, currently in the Pell River area, in Western Hanover - Click here for more info
Jamaica for Jesus - Started by some members of the missions group known as "Single for a Reason for a Season", small teams have been ministering on the island on an annual basis doing school devotionals, hospital ministry, children's ministry, and elderly care. This ministry is lead by Mary Malchow Click Here for more info
Robins Nest Orphanage - A privately funded Christian Orphanage in the mountains outside of Montego Bay. Click Here for info.
Team Jamaica - A Short Term Missions Organization specializing in hosting evangelism focused mission teams on the Island. Click Here for info.
Jamaica Missions - A Missions sending group based in Central Minnesota, organizing and sending up to 10 teams each year of with a variety of focuses. Click Here for info.
New Beginnings International Training Center - A Jamaican based Training Center for young persons from difficult circumstances. Click Here for info.
Teamwork Associates - A Christian School and Church in just outside of Montego Bay. Click Here for info. 
OSDJ (Office for the Strategic Development of Jamaica) - Click Here for info.